Kobe Brown is a reluctant star player.
He's now a 6-foot-8, 250-pound battering ram for Missouri but was originally the starting point guard for Lee High School in Huntsville, Ala. He's a senior in college now but is still getting used to the switch, still a playmaker at heart who wants to put his teammates first.
The forward is humble enough to know when it's not his night. On two separate occasions this season — road games on Nov. 29 against Wichita State and Feb. 27 against Georgia — Brown asked head coach Dennis Gates to cut down his minutes and allow others to play in his spot. It worked out for the team both times, with Mizzou earning a come-from-behind win in each game.
Brown can be too humble at times, though, like he was in the team's home game against South Carolina on Feb. 7. Missouri went into halftime with a modest 42-37 lead. Brown had just five points on 2-6 shooting to go along with five rebounds and three assists. Gates, using a few choice words he said his mother wouldn't approve of, demanded more out of Brown.
Brown listened. He didn't miss a single shot in the second half, sinking two 2-pointers, two 3-pointers and four free throws, racking up 14 points and leading the Tigers to an 84-73 victory.
"I saw him click back and accept that challenge in the right way," Gates said after the game. "(He) didn't pout about it, didn't pout after his head coach got after him. He was able to focus on my words and deliver what I asked him to deliver.
"He can never have a bad day … And I thought he started the game having a bad day. And he corrected that and got through that frustration."
Brown hasn't had many bad days this year. He's averaging 15.9 points, 6.1 rebounds, 2.6 assists and 1.5 steals per game. He's shooting a career-high 55.0% from the field and 44.7% from deep.
Saturday's regular season finale against Ole Miss might be Brown's final game inside Mizzou Arena. But he's got the Tigers on the cusp of returning to the NCAA tournament, guiding them to a 22-8 overall record and a top-five seed in the conference tournament despite the team being picked 11th in this year's SEC preseason poll.
Now in his fourth season at MU, Brown's become the longest-tenured Tiger on the roster, an SEC Player of the Year candidate and the unequivocal, bonafide face of the program.
But the truth is, Brown wasn't ever supposed to be that player. He wasn't even supposed to be at Mizzou.
It's what's made his rise that much more meaningful.
"Kobe was not a McDonald's All-American, right? He wasn't a top-10 player coming out of high school," said Missouri associate head coach Charlton Young, who's known Brown for practically his whole life. "Here's a guy that has worked to improve, who had the humility to say 'How do I get better?' and then implemented the plan."
The Tigers joined in on the race for Brown late during his initial recruitment. Brown said then-head coach Cuonzo Martin had come to see him play a handful of times, but the team didn't officially offer him until Oct. 12, 2018, after over a dozen other schools had already done so.
The forward took an official visit to Columbia, Mo., the next weekend. Point guard Dru Smith, a junior at the time and currently a member of the Brooklyn Nets, was Brown's host.
"Me and him were kind of the same," Brown said. "We didn't party, we didn't like to be out late. I know we did all the stuff we had to, like dinners and tours and whatnot. And then at the end of night, we were like, 'What are we gonna do now?'"
"I remember all he said he wanted to do that night was go to the gym," Smith said. "And so I was like, 'Alright, that's what we'll do.'"
Brown and Dru Smith, accompanied by junior guard Mark Smith, got shots up, scooped some ice cream afterward and went back to Brown's hotel room to talk for a while. Brown said he still has videos on his phone from that weekend. Dru said Brown was the first and only recruit he ever had to host.
Brown thought the visit went well, but it wasn't enough to sway his decision. Brown committed to Texas A&M in the early signing period on Nov. 14, 2018.
Four months later, the Aggies fired head coach Billy Kennedy on March 15, 2019. Kobe's dad and high school coach, Greg Brown, said his son was "devastated."
"He had his mind set on Texas A&M, that's where he wanted to go. And I allowed him to make his own decision," Greg said. "So when we had to make another decision, he was like, 'Well Dad, you know, you just choose. What do you think is best for me?'"
A few schools reached back out to Kobe after he reopened his recruitment. Many of those who showed interest earlier on had finished filling out their signing class. Missouri had two scholarships come open after the 2018-19 season ended, one from Ronnie Suggs entering the transfer portal and another from Jontay Porter entering the NBA Draft. Martin was one of the coaches who got back in contact with Brown and showed high interest in him.
One of Greg's main concerns was that he didn't want Kobe to be in another situation in which the head coach's job status was up in the air. He thought Martin was in a stable position with an NCAA tournament appearance under his belt heading into his third season. Based on the relationship he already had with Martin and the visit he'd taken a few months earlier, Kobe thought Mizzou would be the best place for him. Greg agreed.
Kobe committed to the Tigers on May 14, 2019, without much fanfare. He was the lowest-rated player in his class. Tray Jackson and Mario McKinney were both ranked as top-150 recruits in 2019. Kobe wasn't. Rivals.com graded him as a three-star prospect, listing him as the 40th-best small forward in the country.
He'd be voted to the All-SEC Second Team within three years. Did Kobe himself think he'd get to that level?
"Coming in, no, I did not, I'm not gonna lie," Kobe said. "As soon as the last game of my high school career was over, I knew then I was starting from square one … I just wanted to come in, develop, be who I am."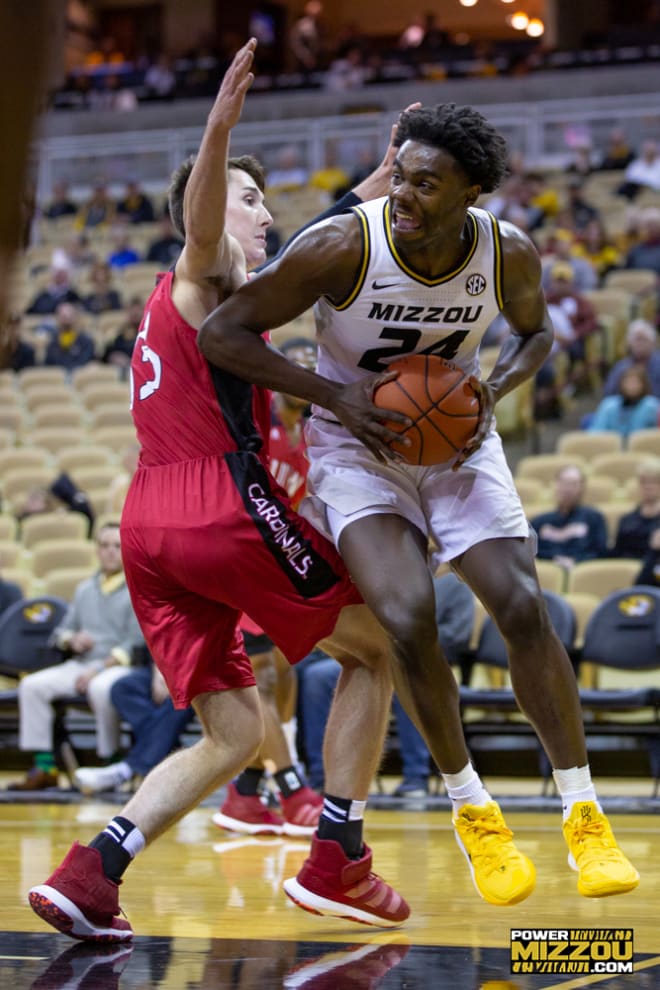 His teammates didn't know what to expect at first but quickly realized he'd be a difference-maker. Kobe had the body of a forward and the skills of a guard, which allowed him to play effectively at any position. Martin rolled him out in the starting five to make his debut with Mizzou in an exhibition game against Central Missouri on Nov. 1, 2019. Kobe posted 12 points, five rebounds, two assists, a block and a steal in 16 minutes.
He stuck in the starting lineup in each of the next 16 games before being moved to the bench for a four-game stretch in late January 2020. The team went 1-3 and Martin promptly reinserted Kobe as a starter. He's started in all 98 games he's played since then.
"I think pretty early on, we knew that the potential was there," Dru Smith said. "I think we definitely knew that he had it and then we were just kind of waiting for it all to come together."
"He was kind of a grown man when he first stepped on campus as a freshman, the way he just moved around and worked every day," said Xavier Pinson, who played for Missouri from 2018-21 and is now at New Mexico State. "He just can hoop. I mean, he's pretty smart and he's like a sponge. He adapts to everything well, he listens and tries to get better every day, works hard. I mean, just like any other good player, I feel like he has that gene."
Kobe kept mostly to himself when he first came in, just wanting to fit in and not wanting to step on any toes. He was a true freshman playing a big role on a team that rostered five juniors and one senior. He'd also get homesick being hundreds of miles away from his family.
His teammates, however, never made him feel unwelcome. They didn't have a problem with him starting because they knew Kobe made the team better. Dru Smith and then-redshirt freshman guard Parker Braun, who now plays for Santa Clara, used to tease Kobe before games to coerce him out of his shell. Kobe said they still do over text "all the time."
Martin made him feel at home, too, always telling Kobe he'd be special someday. Kobe began to believe it. Everyone in the program was there to play for something greater than themselves. It made Kobe realize he'd made the right choice by coming to Mizzou.
"He struggled for a moment, but once we got to know the staff, the love kicked in," Greg said. "And then we were good."
Martin challenged Kobe to embrace the physical aspects of his game, to become a thumper on both ends of the floor. Kobe grew — he was listed at 6-foot-7 and 220 pounds in high school and has put on an inch and 30 pounds since then. It gave him the build to compete with older, more-developed players while he was still a teenager. His points, rebounds, assists, blocks and minutes per game improved every year. His freshman season was cut short by the COVID-19 pandemic but he helped the Tigers reach the NCAA tournament in 2020-21. The next year, he was reunited with his younger brother, Kaleb Brown, who joined the team as a freshman, and Kobe was voted to the all-conference Second Team, averaging 12.5 points, 7.6 rebounds and 2.5 assists.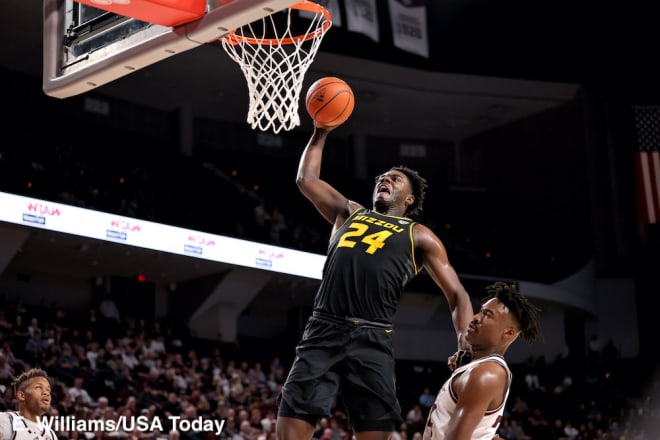 Missouri, however, went into a tailspin. The Tigers were 12-21 overall and 5-13 in league play in 2021-22, ending the year with a 76-68 loss to LSU in the second round of the SEC tournament on March 10. Kobe knew the fanbase was unhappy and had seen rumors on social media that Martin's job might be in jeopardy, but didn't put much stock in it.
He was sitting in his living room with a few teammates the next day when they got the official word that Martin had been let go.
"It was a real shock," Kobe said. "A few of us were real down, shed a tear or two just because we couldn't believe what just happened."
A few administrators from Mizzou's athletic department, including athletic director Desiree Reed-Francois, reached out to Kobe soon after. They wanted input from Kobe, as well as his teammates, about what type of characteristics they'd want the Tigers' next head coach to have. He told them he wanted a mentor he could connect with outside of basketball. Someone who wouldn't treat the program strictly as a business and would care about their players as people, not just athletes.
News broke that Dennis Gates had been hired as head coach on March 19 and he was officially introduced three days later. Nine of Kobe's teammates entered the transfer portal. Kobe and Kaleb considered doing the same.
"I love it here, but of course when, you know, the whole staff is fired, you're hearing about different teammates might be leaving, then you actually see them leave, being coachless can have you in that state," Kobe told PowerMizzou.com in July. "So yeah, I will say there was a time where I thought about like … getting into the portal just so I can see what's out there."
Kobe and Kaleb going to be picked up by their parents after they wrapped up their final classes that same week, planning to spend spring break with their family. Gates asked to speak with them, and their parents, in person just before they left. The first thing Gates told Brown was that if he wasn't invited to the player's wedding, then he hadn't done his job correctly as a coach. Kobe thought that Gates could either be telling the truth or just selling him a dream. But if Gates wasn't lying, it was a big deal.
To help him make a decision, Kobe reached out to the NBA to request feedback from evaluators on whether or not he should enter the draft. The assessment he got was that he was likely to be undrafted and that, for him to have a chance, he'd need to be a lot better from the 3-point line.
Kobe considered himself a good shooter in high school but it never seemed to translate in college. He made 25.3% of his 3s as a freshman, then 25.0% as a sophomore and just 20.6% as a junior. Martin always wanted him to be a bully with the ball in his hands. Kobe's outside shot was a casualty of him bulking up and putting his focus on being an interior scorer.
Gates kept calling to check in on the Browns while they were away on spring break. When Kobe returned, he went to work enhancing his 3-point stroke. Gates was technically Kobe's head coach, but Kobe hadn't made any promises that he was sticking around. It didn't stop Gates from offering to help Kobe as much as he could, working with him one-on-one. Gates never tried to influence Kobe's opinion one way or another. He was sincere in wanting to make Kobe the best player he could be.
It put Kobe's mind at ease. He'd laid down roots in Missouri, building relationships with not only people on the team and in the athletics department, but with store clerks and lunch ladies and classmates and alumni. He didn't want to leave the people who'd rooted him on for three years and had watched him grow up.
"I knew I had a home here in Columbia and I love the fan base. You know, the love here is surreal," Kobe said. "They're great people, great people everywhere.
"(Kobe and Kaleb) told me, 'Dad, these fans are the best that you can ever find. We've been to all kinds of arenas, but our fans are the best.' And I believe that," Greg Brown said. "The whole program is just fit for Kobe, so that's why he's able to thrive. The whole program is fit for him, from the President to the AD, to the donors. I mean, just everything is so comfortable for him. It's just a lot of love there and that's why they're comfortable."
Gates brought in a dozen newcomers to fill out the rest of his roster with a clear vision of playing with a ball-pressuring, up-tempo style. Virtually every player he added has contributed to the team winning its highest number of games since the 2013-14 season. But Kobe has been the centerpiece, serving as both the focal point of the offense and the anchor on the back line of the defense. He's still physical enough to bang with SEC bigs inside, but now forces opponents to guard him from the perimeter, posting the second-best 3-point percentage in the conference. Young called Kobe's decision to stay "the single, probably, most important factor in being able to build the program right away."
Young said Kobe is one of the most unselfish stars he's ever seen. He's the type of player who could demand to touch the ball every time down the floor. Instead, he shares it. He's a major reason why a team with so many new faces became connected as quickly as Mizzou did. No matter who it is he meets, Kobe treats everyone he interacts with like it's the last time he's ever going to see them — "like they're going to die at midnight," as Young put it.
Kobe doesn't know what his future holds yet. He wants to play in the NBA someday like his namesake, Kobe Bryant, the late Lakers legend. Young, who's sent several players to the league in his 27-year coaching career, thinks there's "no doubt" Kobe can make it there. But the senior also has another year of eligibility after this season, giving him the option to return to Mizzou. Kobe hasn't put much thought into which route he'll and won't until after this year is over.
In the meantime, he has his sights set on accomplishing all that he can with the Tigers. He doesn't want to leave MU without a championship ring. He'll eventually have to move on from the school he never intended to go to, but it won't be long before he returns.
"He loves playing for the University of Missouri. You can see it every time he puts the jersey on his chest. He has a tremendous amount of pride and he's extremely loyal," Young said. "Not many kids want to stay at the same university and get their jersey retired and go in the Hall of Fame and come back and open a business in the place that they're playing. Kobe, that's his mentality.
"His relationship with Missouri, it will go long beyond his years of playing here. He'll be back supporting this university or working at this university in some capacity, I really believe that … That bond and that relationship is what college basketball was meant to be."
Stay up to date on all the Mizzou news with your premium subscription
Talk about this story and more in The Tigers' Lair
Make sure you're caught up on all the Tiger news and headlines
Subscribe to our YouTube Channel for video and live streaming coverage
Everyone on here already has insurance (or they should). Everyone on here also cheers for the Tigers (or they should). In college sports the hot button issue is NIL. A school can no longer compete the way they did just a few short years ago without a robust NIL collective. In our economy, the hot button issue is inflation. Here's your opportunity to see about saving money on something that the state requires you to have on your car and your lender requires you to have on your house. Oh and by the way, just a quote from James's office will get a donation on your behalf to Every True Tiger Foundation, one of Mizzou's NIL initiatives. Blink if you like saving money. Blink twice if you want to do everything you can to position your favorite college program to be as competitive in the SEC as possible. Give James's office a call at 314-961-4800 or get a quote online at carltoninsurance.net.
"If your insurance costs a leg and an arm, call James Carlton State Farm."