In December 2012, Paul Branham had a surprise for his father. Piloting the Boilermaker Special, he was part of the crew responsible for the ride to the Heart of Dallas Bowl. Only a select few members of the Reamer Club get to pilot the Special, and on December 30, 2012, Paul went past the Cotton Bowl in Dallas to Keller, the northern suburb of Fort Worth where he grew up. He had a surprise for his dad, Jim: He drove Purdue's mascot up the hill and into the driveway of his childhood home.
"I have to pull the train up the driveway where I grew up and park it next to the basketball court where I learned to play," said Paul. "I swear my father could have died a happy man that day."
The father and son bonded through Purdue. Like so many others, Purdue University is a generational thing in the Branham family. Jim Branham is a 1977 graduate of Purdue's School of Pharmacy and the current president of Reindeer Shuttle, which provides Lafayette students and residents with convenient shuttle access to both Indianapolis and O'Hare airports. His son Paul graduated from Purdue with both a bachelor's and master's degree in nuclear engineering. He now works for Purdue as Director of Industry Business Development.
The Branham family's home in Keller, Texas is an oasis of Boiler fandom far from West Lafayette. It stands out when you search for it on Google Earth because it has a 66×48 basketball court with "Purdue Boilermakers" written on it in the backyard. "My dad coached my sisters and I to play basketball on that court, and even though I was never very good, I grew to love the sport," said Paul.
It's no surprise that Jim has that court in his backyard. His love for the Purdue basketball program goes back more than 50 years. His connection to the program is almost as old as Mackey Arena itself. From 1972 to 1975, he was student manager of the basketball team under coach Fred Schaus.
During his time at Purdue, things were very different with the program. Those were the days when Purdue still had a freshman team because the NCAA wouldn't allow freshmen to play. He had to start as manager for that freshman team, which sweated upstairs in Lambert Fieldhouse in the summer because there was no air conditioning. Game days were twice as long, as the varsity required him to work the freshman game.
Over time, that paid off. He received an envelope that allowed him to join the Varsity P Club and it established a close relationship with the program that continues to this day.
When I was a manager from 1972 to 1975, there weren't that many managers and there was no compensation other than a jacket or windbreaker for each year I worked as a manager. I believe they have partial scholarships available now, but would need to confirm how many are available. I did get a letterbox for my third year, so as a letterman I am a member of the Varsity P Club and eligible to be in Section 15 along with other lettermen, such as Matt Waddell and Dave Schellhase. That policy was set by Matt Painter, so I will always be grateful to him for that.
— Jim Branham
Home to 25 Big Ten championships
Each of those championships holds a special place in the hearts of Purdue fans. Many have been around for generations as the first goes all the way back to 1911. When you look at the banners there is a very clear divide. The gap between 1940 and the 1969 Rick Mount team serves as a great delineator of before and after. The era of 1940 and earlier belongs to the ghosts of the past, while Mount himself is the link to the early days of Mackey Arena when he shows up. The 1969 era and beyond is the Mackey era, and the connections forged by families watching those teams are at the heart of Purdue fandom. `
When Purdue won its 24th Big Ten Championship during the 2018-19 season, there was some curiosity about the pregame "Our House" hype video playing in Mackey Arena before the starting lineups are introduced. How soon would they get Gene Keady in the studio to change it from 23 to 24 Big Ten championships?
The answer was known almost immediately, as within minutes of the final buzzer in Evanston, when Purdue clinched the league crown, the official Purdue basketball Twitter coach Keady posted saying "this is home to 24 Big Ten championships".
With how fast they were able to post this, it implies that there is a cache of recordings where Coach Keady says 25, 26, 27, and so on so they'll be available in future seasons as Purdue contributes to the legacy of the championship. In fact, several fans are wondering if the video will be updates for Sunday's season finale with Illinois, as the 25th championship has already been secured.
Fortunately, Jim and the Branham family also provide a home for those championships at Mackey Arena. Just a few weeks ago, the display case for those championships was decorated with "Presented by the Branham Family" thanks to a gift from Jim. When he made his donation, he wanted to make sure his family was represented, not just him.
Jim's relationship with Purdue dates back to his parents, who were local residents who were fans even though they didn't go to Purdue. Jim started attending games when he was 10 years old and grew up in the time of Bob Griese, Leroy Keyes and Rick Mount. Eventually, he and his sister both went to Purdue to carry on the family tradition.
After all this time, Jim was happy to give back to the program that has given him so much pleasure over the years.
When I was a major contributor to the Purdue Basketball program, I was neither interested in nor asking for special recognition. As COVID came and went, I worried that my contribution would soon be forgotten, and I didn't want that to happen. So I asked my BAR if JPC and the basketball staff could revisit the idea of ​​some sort of special recognition. The only thing that means more to me, other than a National Championship, is winning the Big Ten and taking that trophy on the final day! So when they asked which of the available options I'd like to support, it was a no-brainer.
— Jim Branham
Those championship seasons always stand out for Purdue fans. 1979 is memorable because it came with a victory over eventual national champion Michigan State. 1987 and 1988 featured the Three Amigos of Everette Stephens, Todd Mitchell and Troy Lewis. Glenn Robinson and Cuonzo Martin (along with a young Matt Painter) played major roles during the 1994-1996 "3-Pete." Eventually, the Baby Boilers would put up a well-deserved banner in 2010 and two more were added in 2017 and 2019.
Those championships also keep coming, with the 25th closing last weekend.
When discussing with Dad his options for which screen to sponsor, he and I both acknowledged that the loudest reaction in Mackey's pregame video is the point where Gene Keady says "this is home to 24 Big Ten championships"
—Paul Branham
The Branhams have thoroughly enjoyed this season, especially the surprise trophy that will be added to the trophy cabinet. Purdue was not a preseason favorite in the conference after losing so much production last season to a team that the 25th Big Ten title eludes them.
With Purdue clinching that 25th Big Ten championship this week, room needs to be made in the trophy cabinet, and Jim is happy that his family can provide a home for that legacy. He does say he can give a little more leeway if needed:
As for funds to support a National Championship Trophy, I may have to sell our homes in Indiana and Texas if necessary to make that happen! If our Boilermakers can find a way to finally cut the nets, I'm sure the Branham family would be proud to sponsor our first-ever Men's NCAA Basketball Tournament Championship!
— Jim Branham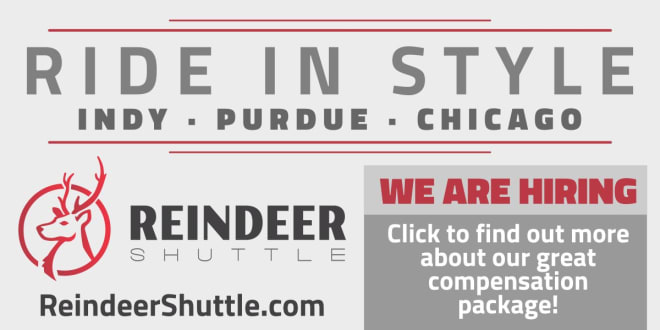 Boiler Upload is now a partner of Seatgeek. Use coupon code BOILERUPLOAD to get $20 off your first purchase at Seatgeek.com